Dr. Laura Boykin, UNM Biology Alumna, Sub-Saharan Africa Whitefly Research
News
Posted: Nov 07, 2015 - 12:00pm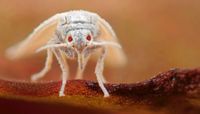 University of New Mexico alumna Laura Boykin (Ph.D. 2003) was recently featured in the article, "12 Badass Scientists...Who Also Happen to be Women" released by Ted Fellows, a program that falls under the purview of TED (Technology, Entertainment, Design) the organization whose motto is to make great ideas accessible and spark conversation.  
TED Fellows are individuals lauded for their innovative solutions to the world's most complex challenges today. For Boykin, the challenge came in the form of the whitefly, an insect that transmits a virus to cassava, a root vegetable that nearly 800 million people worldwide rely on for sustenance, some for income.
Read the full story at UNM Newsroom.