Dr. Ken Whitney's Research On Herbivores
News
Posted: Jul 30, 2014 - 12:00pm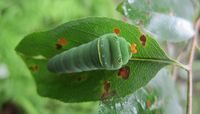 ew research has found that dietary specialization among herbivores, specifically caterpillars, indicates whether or not they are better able to hide themselves from predators such as birds. The research suggests those herbivores who dine on a wide variety of plants face an increased chance of being eaten by birds whereas those with a limited diet are less likely to be eaten.
The research titled, Herbivore diet breadth mediates the cascading effects of carnivores in food webs, and published recently in the Proceedings of the National Academy of Sciences, shows the far-reaching effects of herbivore dietary specialization on the ecological and evolutionary dynamics of carnivore–herbivore–plant interactions.
The research was led by Mike Singer, associate professor of biology and associate professor of environmental studies, at Wesleyan University. The collaboration included UNM Department of Biology Associate Professor Kenneth Whitney and four others.
Read the full story on UNM Newsroom.